NEW! Job specific design templates
Choose from a wide range of professional, license-free template sets for various industries. Each set consists of templates for flyers, business cards, and stationery in the same design. Giving everything a cohesive look.

For more individuality, you can of course customize any of the templates to suit your style.

All the templates are license-free and can even be used to design your PR and marketing schemes, regardless of how many copies you produce or in what time period you use them.*

*Photographs in the templates may not be commercially sold to third parties.
NEW! 64-bit support: More RAM & multi-core support for optimum performance
For the first time Xara Designer Pro X9 allows you enjoy the advantages of a 64-bit application.

The main difference is in the amount of RAM available. On a 64-bit operating system a 32-bit application can use up to 4 GB of RAM, while a native 64-bit application is capable of using up to a terabyte of RAM.

What's more a 64-bit application uses all the processor cores simultaneously to calculate elaborate graphics.

So you can achieve top quality results quicker than ever before.
Web design

Professional online business presence
Create your own modern website yourself in just a few steps with no programming experience.
In the new version the automatic website size adjustment feature has been optimized and you can now also define custom backgrounds for an area outside of the website.
NEW! Google Fonts Library

In Xara Web Designer Pro X9 you can choose from more than 600 fonts.

Even unusual fonts are now correctly displayed in any browser thanks to the Google Fonts Library.

Thanks to the improved search function you can quickly find and download the right font.
NEW! Optimized for high-resolution displays

Many high-resolution displays (such as retina displays) make standard websites look blurry.

With Xara Designer Pro X9 you have the option to upload a high-resolution version of your web graphics in addition to a standard version.

This way, your website will also look razor-sharp on all high-resolution displays.
MORE! E-commerce

With Xara Designer Pro X9 you can now directly integrate online shop systems such as Amazon or e-Bay on your website.

Use the advanced search engine optimization options for your website. After all, finding your website should be easy for your customers.

Find out what your website visitors are interested in and what makes them leave your site. With this knowledge you can improve your website and increase sales. To do so simply embed the Google Analytics Code.
BONUS! Hosting package M** with 2000 MB webspace and 1 domain included
Publishing your homepage is now even easier with MAGIX Web Hosting. The upload function has been designed to be even more efficient.

Along with Xara Designer Pro X9 you will also get the MAGIX Online World M* hosting package.

This package has everything you need to publish your website!

2000 MB webspace
1 free domain (.com / .org / etc)
5 Email accounts*

**This offer (Hosting M) from MAGIX Online World can be used free for 12 months after registration. After this free period the domain can be upgraded according to the applicable terms conditions of MAGIX Online World or downgraded to Hosting free. Find out more at www.magix-online.com.
Photo editing

Get the most out of your photos
Whether used for simple photo editing tasks such as adjusting brightness, contrast, color etc or for more advanced editing like retouching photos and collages Xara Designer Pro X9 features all the necessary tools for comprehensive photo editing.
NEW! Healing brush

The repair brush is an extended version of the Magic Erase tool which allows you to quickly remove unwanted elements from images.

Using the new Repair Brush to remove spots and wrinkles from people's faces. Use the tool to draw over the area you want to correct.

TIP! You can also create creative photo montages with the copy function by placing image elements at different positions.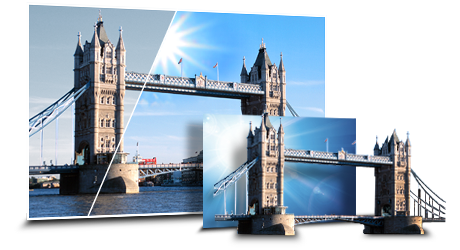 NEW! Background erase
The background erase tool enables you to remove background elements from photos quickly and easily.
Use it to change a boring gray sky into a bright blue one!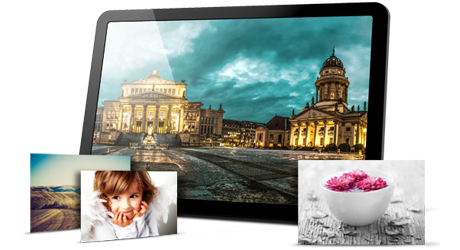 MORE! Photo effects
There is a huge range of new filters. Use the HDR filter for example to even out the brightness of your images.
Other new filters include Little Planet, Tilt-shift, Lomo, and Sepia.
Graphic design

Draw, paint, & illustrate with the world's fastest vector graphic engine.
Thanks to the new tool layout it's easier than ever before to create vector based graphics. Use you graphics tablet like a piece of paper to sketch designs.
NEW! Combined selection/mask tool

With the combined selection/mask tool you can select individual image elements and move or edit them.

Or use masking to protect image areas from being altered.

TIP! Use this feature to apply effects to specific areas of the image.
Page layout

IMPROVED! Create all kinds of print and online documents
The page layout functions in Xara Designer Pro X9 have been improved yet again. Now you can number your pages, insert page breaks, and design multi-columned text faster than ever before.
The new version of Xara Designer Pro is also able to import and export Word documents.