Vintage Effects Suite
The Vintage Effects Suite expands the effects range. with aChorus/Flanger, a delay and a filter plug-in, Corvex, Ecox and Filtox, all of which are based on the same simple operating principle and will wow you with their incredibly exciting effect sounds.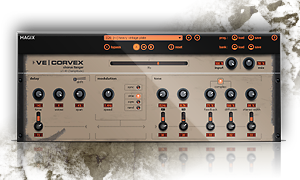 Corvex
Corvex creates the typical 'floating' sound as known from guitar sounds or synthesizer pads. You can add acoustic 'depth' to an instrument to add more power to the sound or to create the illusion that it exists multiple times.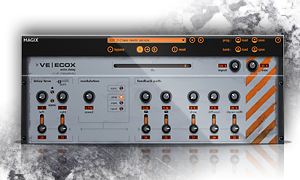 Ecox
Ecox can reproduce authentic band echo sounds particularly well, including the system-dependent tracking fluctuations and loss of highs during each feedback.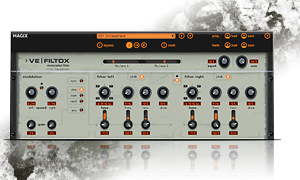 Filtox
Filtox is a modulation effect'. However it only controls the frequency response of a modulation source. Possible areas of application are synthesizer sounds (filter sweeps on pads) or creative distortions of drumloops (e.g. for variations, fills, etc).
System requirements PC
Windows XP, Vista, 7, 8 (32Bit & 64Bit)
Pentium / Athlon XP 1.4 GHz, 512 MB Ram
Recommended:
Pentium / Athlon XP 3.0 GHz, 1GB RAM
Interfaces:
VST2
System requirements Mac
MAC OS 10.6 or higher
Intel-Mac 1GHz, 512 MB Ram
Recommended:
Intel-Mac 1.8 GHz, 1GB Ram
Interfaces:
VST2 | AudioUnits
Important:
Users who own the previous version "Vintage Effects Suite" can get the new version for free by going to the "My Products" section in the Service Center.